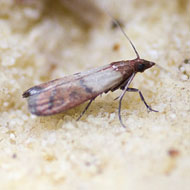 I don't know where they came from and I dont really know when they came but suddenly I have pantry moths. Not a random moth or a couple of easily squished grubs but a full on assault. There are dozens of them flying around in the kitchen and in the pantry.
I have found moth nurseries in walnuts, pistachios, coconut and pancake mix. All of those things have been put in the freezer overnight to kill the blighters, then the whole lot goes in the bin.
I have frozen potential sources which seem to be moth free: rice, flours, dried fruit.
The cupboards have been inspected, decluttered, wiped down and still there are moths. Fluttering around the light, strutting on the ceiling, even making moth babies right before my eyes.
Two glue traps have been set and covered in little grey bodies, the next two traps are luring the next generation and still there are moths.
I have no clue what it is that is still harbouring the pests but when I find it, I just might torch the little buggers.